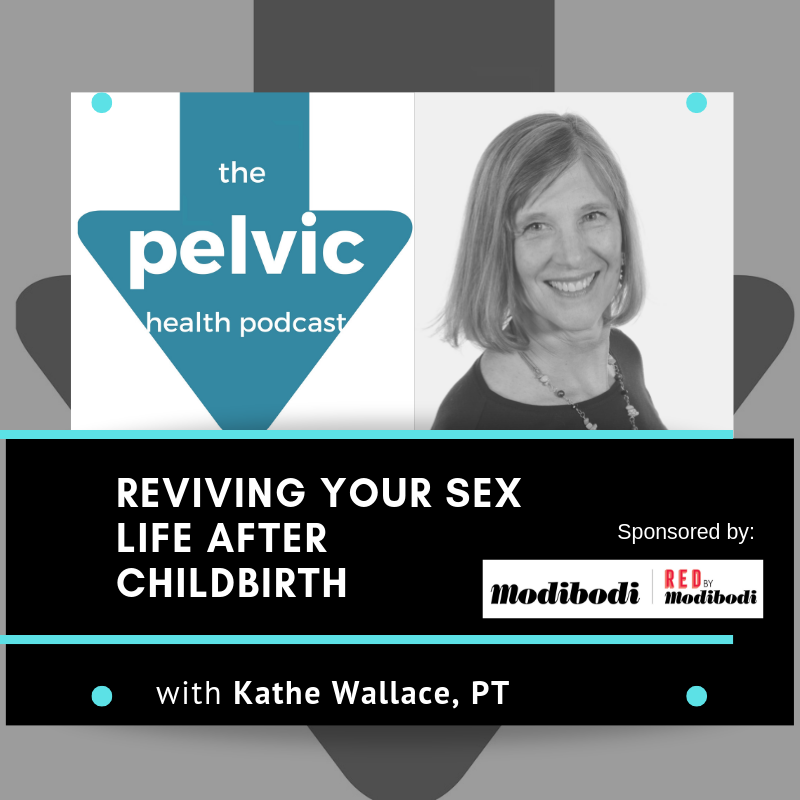 Today we are talking to Kathe Wallace, physiotherapist, about how to go about returning to sex after having a vaginal birth, in which she discusses in her book, Reviving your Sex Life after Childbirth. We have spoken about this topic on the podcast previously surrounding the importance of sexual intimacy in relationships, however today we are focusing on why this topic is important after a vaginal birth from a physical as well as psychological perspective, what women can assess themselves, the importance of bringing partners into the process, and where/how physiotherapists can help.
Thank you to this episode's sponsor - Modibodi
Bio:
Kathe Wallace, PT, is an internationally recognized clinician, author and lecturer in women's health and pelvic floor dysfunction evaluation and treatment. Kathe has been a physical therapist since 1976 and focused on the pelvic floor since 1988.  She is a lifetime member of the APTA.
Kathe volunteered in the early 1990's to help the American Physical Therapy Association Section on Women's Health (SOWH) establish pelvic floor continuing education seminars and instructed pelvic floor function, dysfunction and treatment seminars for the associations section through 2005.   In 2006, she co-founded the professional continuing education company Herman & Wallace, Inc. developing a series of pelvic floor training seminars for physical therapists. She is no longer affiliated with the company and nowindependently continues to develop pelvic floor related seminars and resources for health care providersand their patients.  She is currently focusing on private patient consulting, mentoring and developing professional training for physical therapists at The Pelvic Health Clinic in Seattle, WA, USA.
Kathe was honored to receive the Washington state Physical Therapy Association (PTWA) Clinical Excellence Award in 2006. She is the author of Reviving Your Sex Life after Childbirthand multiple patient education handouts to restore the pelvic floor.  She also serves as a Clinical Instructor, Division of Physical Therapy, Department of Rehabilitation Medicine, at the University of Washington.  Her professional mission is to ignite and nurture knowledge regarding pelvic floor dysfunction to help women and men get the care they need.
Resources:
McDonald, E. A., & Brown, S. J. (2013). Does method of birth make a difference to when women resume sex after childbirth?. BJOG: An International Journal of Obstetrics & Gynaecology, 120(7), 823-830.  https://obgyn.onlinelibrary.wiley.com/doi/full/10.1111/1471-0528.12166  
Stavdal, M. N., Skjævestad, M. L. L., & Dahl, B. (2019). First-time parentś experiences of proximity and intimacy after childbirth-a qualitative study. Sexual & Reproductive Healthcare.   Not free access https://www.sciencedirect.com/science/article/abs/pii/S1877575618303355  
 Penny Simkin  Childbirth trauma http://pattch.org/   USA 
https://www.youtube.com/watch?v=IkVHUrhh_vY 
 Professional associations
Heather Howard
http://sexualrehab.com/Additional-Resources.html  
https://ergoerotics.com/ 
SEXOLOGY International blogs and resources https://sexologyinternational.com