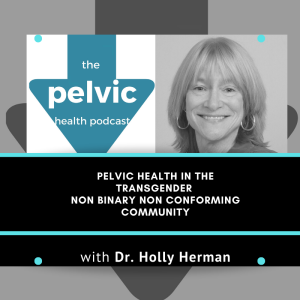 Sunday Feb 09, 2020
Pelvic health in the transgender non binary non conforming community with Dr Hollis Herman
Dr. Holly Herman has been a physical therapist (physiotherapist) for more than 45 years and it was with absolute delight to talk to her about her passion in treating musculoskeletal and pelvic health concerns, including surgical procedures and subsequent rehabilitation, in the transgender non binary non conforming community.
In addition to maintaining a full time private practice in Cambridge, MA, she lectures and presents courses world-wide on Pelvic Floor, Women and Men's Health, Pregnancy and Postpartum, Orthopedics, Geriatrics and Sexual Medicine.
Holly is 1 of 2 PT's in the world certified as a Sexuality Counselor by the American Association for Sexual Educators, Counselors and Therapists (AASECT), and one of 4 PT's in the world certified as a Women's Health Sexuality Fellow by the International Society for the Study of Women's Sexual Health (ISSWSH).
Holly co-founded the Herman & Wallace Pelvic Rehabilitation Institute in 2005. Though she is no longer associated with the institute, Holly brings her own courses to the US, England, Ireland, New Zealand, Chile, Canada, Portugal, Brazil, UAE Saudi Arabia and Australia through HWHMeducation.
For her full bio, check out her website HERE.
Comments
(0)
To leave or reply to comments, please download free Podbean or